Announcing the 2018 Travel Video Contest Winners
jhelum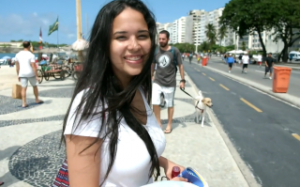 Our 2018 Travel Video Contest has come to an end, but we couldn't be more excited to share the winners with you. We asked you to tell us about a trip you want to take or where you propose to study abroad, and you answered in a multitude of ways. Each of the 2018 entries took us all over the world, and were inspiring to watch. This year's submissions left us no easy task in choosing the finalists, but we managed to narrow down the list to pass along to our judging panel. This being the final day of International Education Week, we couldn't find a more appropriate time to announce the close of the contest and the winners for this year.
Included in our 12 finalists was this year's Viewers' Choice Award winner, Kaleema Lowery's "Leaving Routine Behind." Kaleema earned the most viewer votes and a place in the finals. Congratulations, Kaleema!
Last but not least, we are delighted to announce this year's 1st, 2nd, and 3rd place winners:
$4000 First Place Winner: "Remembering to Live" by Mariana Barbosa of Brazil
Mariana's passions are driven by learning languages to communicate them in the business world. Her plans to make an impact begin with attending the University of Winnipeg in Canada and majoring in Business. Mariana will be the first in her family to attend college.
$500 Second Place Winner: "Me and My Camera" by Prabhat Gurung of Nepal
Prabhat is a junior at Caldwell University here in the United States. He plans to visit his home country of Nepal to use his filmmaking skills to share the beauty and stories of Nepal to the world.
$250 Third Place Winner: "Why Later?" by Hoang Thuy Ha of Vietnam
Hoang broke from the everyday monotony of her life in Vietnam when she fell in love with dance. At 30 years old, she plans to study Dance Therapy abroad to show others that they should never wait to follow their dreams.
A BIG congratulations to all the winners this year!
We know that making and submitting these videos have shown us the heart of your dreams and we hope you'll watch the rest of this year's submissions as well. And who knows? Next year, you could be the next one winning when we reopen our annual contest in 2019. See you then!
The post Announcing the 2018 Travel Video Contest Winners appeared first on The International Student Blog.