Free University Fair for Students in the Netherlands, Belgium and Luxembourg
jhelum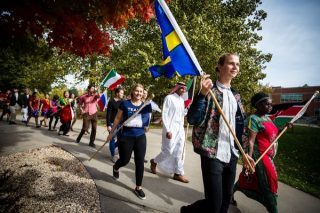 Are you a student that lives in the Netherlands and would like to earn your undergraduate degree in the US? You're in luck! Northwest Missouri State University, and other universities from the US, are touring the Netherlands and want to meet students like you. Below are the fairs that Northwest Missouri will be attending. Find a location closest to you and pre-register for the free event.  
Undergraduate University Fairs in the Netherlands
Brussels College Night Undergraduate Fair
Where: British School of Brussels, Pater Dupierreuxlaan 1, 3080 Tervuren
Date: Monday, October 1, 2018
Time: 6:00 – 8:30 PM CEST
Luxembourg College Night Undergraduate Fair
Where: International School of Luxembourg (36, Blvd Pierre DuPong, L-1430
Date: Thursday, October 4, 2018
Time: 5:00 – 9:30 PM CEST   
Amsterdam College Night Undergraduate Fair
Where: International School of Amsterdam Sportlaan 45, 1185 TB Amstelveen, Netherlands
Date:  Friday, October 5, 2018
Time: 7:00 – 9:00 PM CEST
At College Night you'll meet with the admission officers, faculty and alumni from universities all over the US. This is a great opportunity for you and your parents to learn more about the higher education system in the US. You can expect around forty different US universities to attend each fair. Come with an open mind and you might just meet your future school!
Say Hello to Simon from Northwest Missouri State University!
Northwest Missouri State University will be touring all around the Netherlands, and is a great school  for you to visit. Don't believe us? Hear from Simon van Rossum, a former international student at Northwest Missouri from the Netherlands. While at Northwest Missouri, Simon studied courses such as: Civil War & Reconstruction, The United States since 1877, and Promotion and Intercultural Communication. Here is what Simon had to say about his time at Northwest Missouri:
Overall Experience
"I sincerely loved my time at Northwest Missouri State University. Northwest is a typical campus college and a great place to make friends from all over the world. The campus has a tremendous support network, such as very good doctors and great teachers who are always willing to help."
On-campus Sports
"The campus is surrounded with a beautiful environment and, what I really liked, many sport facilities. They have tennis courts, basketball courts, a calisthenics workout park and a great fitness centre. If you want to experience a championship game you should definitely go to Northwest as they have great athletes and teams who perform phenomenally and are always competing for the title."
School Environment
"It's a reasonably small campus which genuinely means your presence as a student counts and you will be treated with a lot of support and hospitality. Moreover, in a relatively smaller campus it will be easier to make new friends. The International Office organizes great events for students to meet those from other nations and to learn about their cultures. Once you start your major or study abroad program you will always be considered a Bearcat because their motto is: Once a Bearcat always a Bearcat." This is a sentence that I genuinely will never forget and will stick with me forever."
The post Free University Fair for Students in the Netherlands, Belgium and Luxembourg appeared first on The International Student Blog.